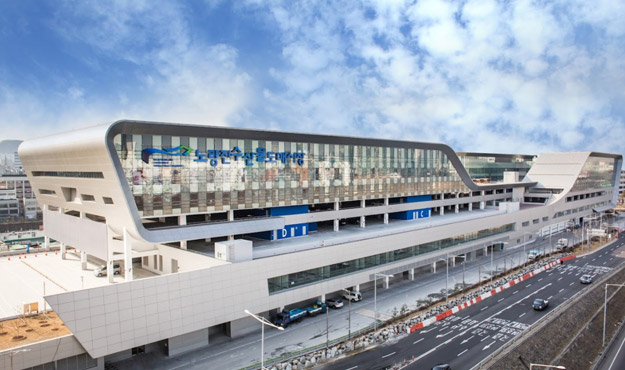 Noryangjin Fish Market is at the center of domestic seafood distribution.
"Noryangjin Fish Market", a seafood wholesale market, is being reborn as the best distribution center in Northeast Asia through service improvement and advanced systems.
Location :

(06900) Node-ro 674, Dongjak-gu, Seoul

Tel :

02) 2254-8000
Homepage
Business overview
Noryangjin Fish Market is a legal wholesale market that leads innovation in the seafood distribution industry and protects producers and consumers. By raising the receivable price to producers and supplying high-quality food at low prices to consumers, we contribute to the stable supply and demand of seafood and stabilize consumer prices.
Company History
Company History - date, content

| | |
| --- | --- |
| 2018. 03 | The Busan branch opened (expanded purchase and wholesale transaction functions). |
| 2016. 03 | The modernization market opened. |
| 2015. 10 | New building completed at Noryangjin Fish Market. |
| 2013. 06 | Changed company name to Suhyup Noryangjin Fisheries Co., Ltd. |
| 2012. 12 | Noryangjin Fish Market Modernization Project Construction was started. |
| 2002. 02 | In accordance with the government's policy of privatization of public enterprises, Suhyup took over and started operation. |
| 1983. 06 | Noryangjin Fisheries Co., Ltd. was established (changed to a designated wholesale corporation). |
| 1971. 06 | Newly built and moved from Korea Refrigeration Co., Ltd. to Noryangjin Fish Market. |
| 1927 | Gyeongseong Jusan Market Co., Ltd. was established in Uiju-ro, Seoul. |
Business information
We are establishing a high-level business management system, including a computerized consignment, a seafood recall system, a reward system for reporting unfair trade practices, and a customer-oriented business management system. We have become the best modern seafood distribution market in Northeast Asia by introducing advanced techniques such as customer satisfaction management and open innovation customer support management.
Business role
The central seafood distribution market accounts for more than 45% of the seafood distribution in the metropolitan area.
Contributing to fishermen's increased income through a stable market.
Price management through fair competition.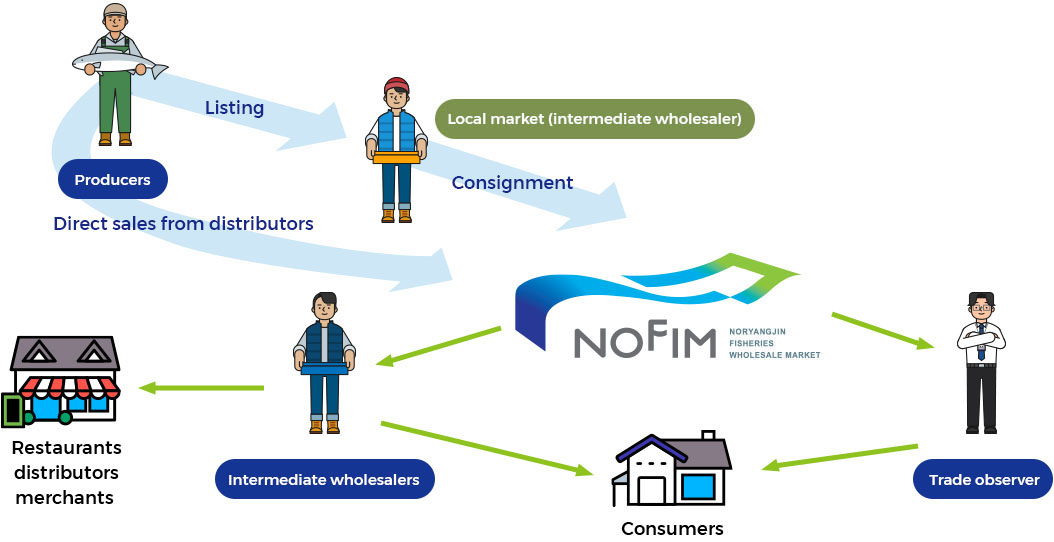 Business hours and off days
Business hours and off days - Division, Off days, Auction time and business hours
Division
Off days
Auction time and business hours
Auction

Sunday
New year's day (Jan 1st)
Lunar New Year's holidays (3days))
Chuseok holidays (3days)
Summer vacation (1 day)

Shellfish : 01 : 00 ~
Premium fresh fish : 01 : 30 ~
Popular category : 01 : 30 ~
Quality live fish : 03 : 00 ~
Frozen category : 03 : 00 ~

Sale(Wholesale and retails)

Premium : 00:00 ~ 24:00
Popular : 01:30 ~ 22:00
Frozen : 03:30 ~ 22:00
Shellfish : 01:00 ~ 22:00